The US auto industry is almost extinct in Europe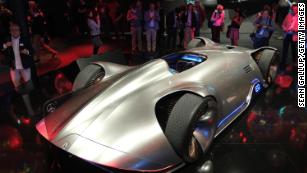 Frankfurt, Germany (flash Business)American automakers once felt that doing
business in Europe was essential to their global ambitions. Now they see the region as a profit killer, a market to be avoided if at all possible.
That retreat was symbolized at this week's
Frankfurt Motor Show
, one of the industry's biggest global events, where the USA was MIA.
Ford
(F)
was the only US automaker with any presence, and it was a quiet one, with no press conference, no vehicle reveals, no attention.
Stronger labor laws and union power make it far more difficult to close plants in Europe than in the United States, leading to more overcapacity in the market, and downward pressure on prices.
The slowdown in European economies is also hurting automakers. Germany, the region's largest economy and the powerhouse of the auto industry, is teetering on the
brink of recession
. Added to that are fears that a disorderly Brexit could
disrupt European supply chains
for auto plants and cause a big drop in productivity.
"It's all those things that make Europe so difficult," said Jeff Schuster, president for global vehicle forecasting for research firm LMC Automotive. "But it's also a change in attitude. In the past automakers strived to be everything to everybody, everywhere. That's not the case any more. The drive for profitability has really taken over."
General Motors pulled out of Europe two years ago when it
sold its Opel and Vauxhall
brands to Groupe PSA, the French automaker that makes Peugeot and Citeon cars. The two brands had lost $22.4 billion over the the previous 17 years. GM cited the
risks posed by Brexit
in announcing the deal to sell.
"We expect geopolitical events will continue to impact commerce in the region, as we're experiencing real time with the impact of Brexit," GM President Dan Ammann said when he announced the sale.
Ford
(F)
is also in the process of retrenching in Europe,
closing five plants
in the United Kingdom, France and Russia and selling a sixth in Slovakia, as it works to reshape its business worldwide. And its recent
alliance
with
Volkswagen
(VLKAF)
suggests it could soon leave muchthe European market to its new partner.
"It wouldn't surprise me if it ultimately goes in that direction," said Schuster.